I'm very excited to announce our next 'Transformation Tuesday' story.  Cassie joined us at the start of our last transformation program.. our 6 Week Little Black Dress Project and she explained to me that she wanted to feel beautiful for her upcoming wedding in September.  Since then, she has totally adopted a clean lifestyle and consistent exercise routine at boot camp, and each week I notice she has more and more energy and her workout clothes keep getting too big on her. :)
I asked her to share her story with all of you, and she was totally on board.  I give you Cassie: the more energetic, confident bride-to-be that is now 30 pounds lighter, 6% less body fat, and 18.6 inches less than the beginning of January.
Here's Cassie!
My life before Bay View Boot Camp:
When I consider my life prior to boot camp, I think there are two versions.  There was the college version that was an active cheerleader and maintained a healthy weight because of the strict schedule of cheerleading. Then there was the post college life, that included not exercising and eating really anything when I could because real life hit me with a full time job in retail after I graduated college.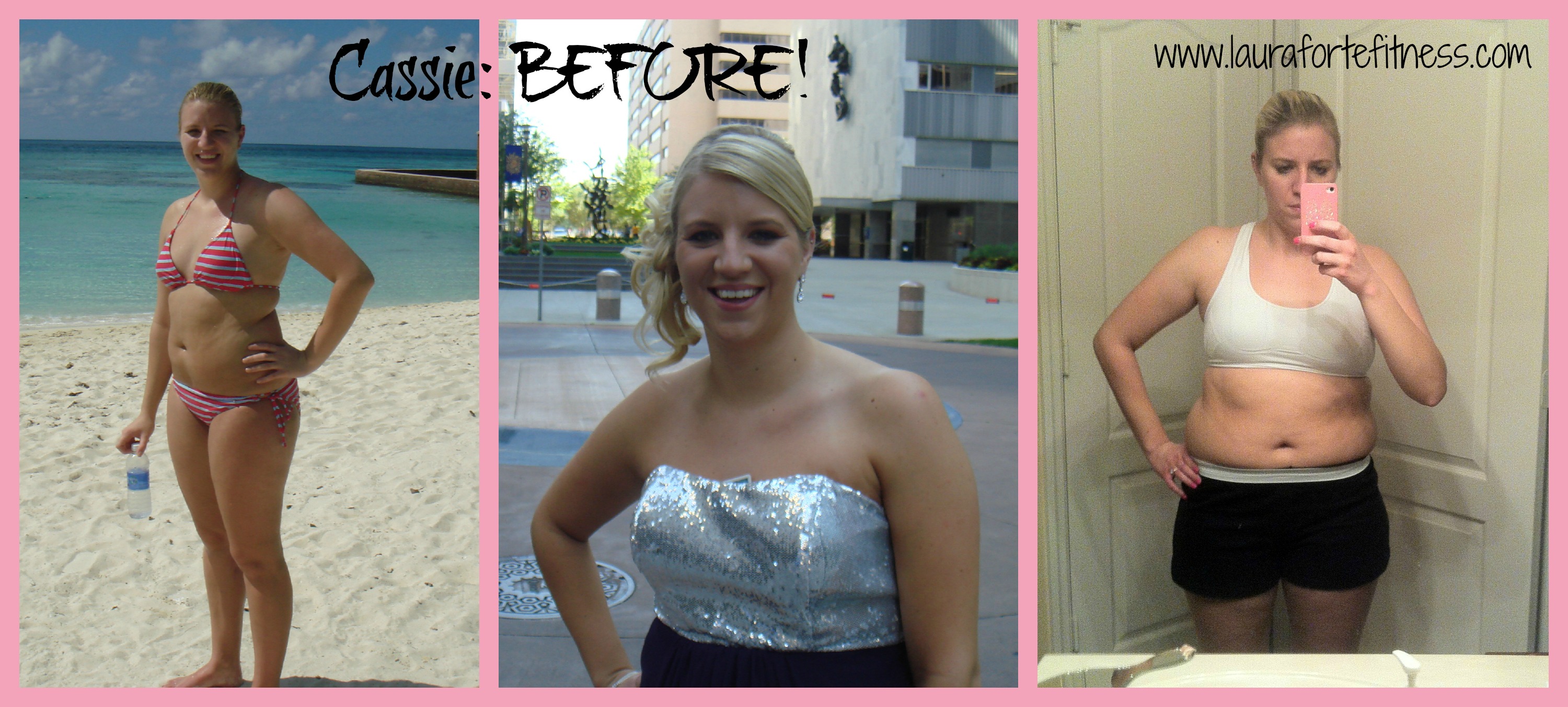 Why did I decide to sign up?
The biggest factor that made me sign up for boot camp was that I am getting married in September and The Little Black Dress Project seemed like the perfect opportunity.  My fiancé and I have been together for 8 years and of course when we meet I was 16 and very thin. I always thought that girl was gone.. I thought I had grown into a woman and being a little bit bigger was just a part of that. Yet, when I went to try on wedding dresses I think that was my "Oh my gosh I need to do something moment".  I realized I wanted to look my best on wedding day. What turned into me wanting to lose weight to look my best on my wedding day really has turned into a complete life style change.
What do I love most about my new lifestyle?
What I love most about my new lifestyle is the fact that I hold myself accountable for everything and that I have learned to get clean and healthy, but still enjoy what I love every now and then. When I used to think about losing weight, I thought I would never be able to eat anything good ever again.  But.. I have quickly learned that this is just not true. I love that I have a routine finally for exercising, since growing up as a cheerleader since I was 11 being active has always been a huge part of my life and I just needed to learn how to work it into my life and routine.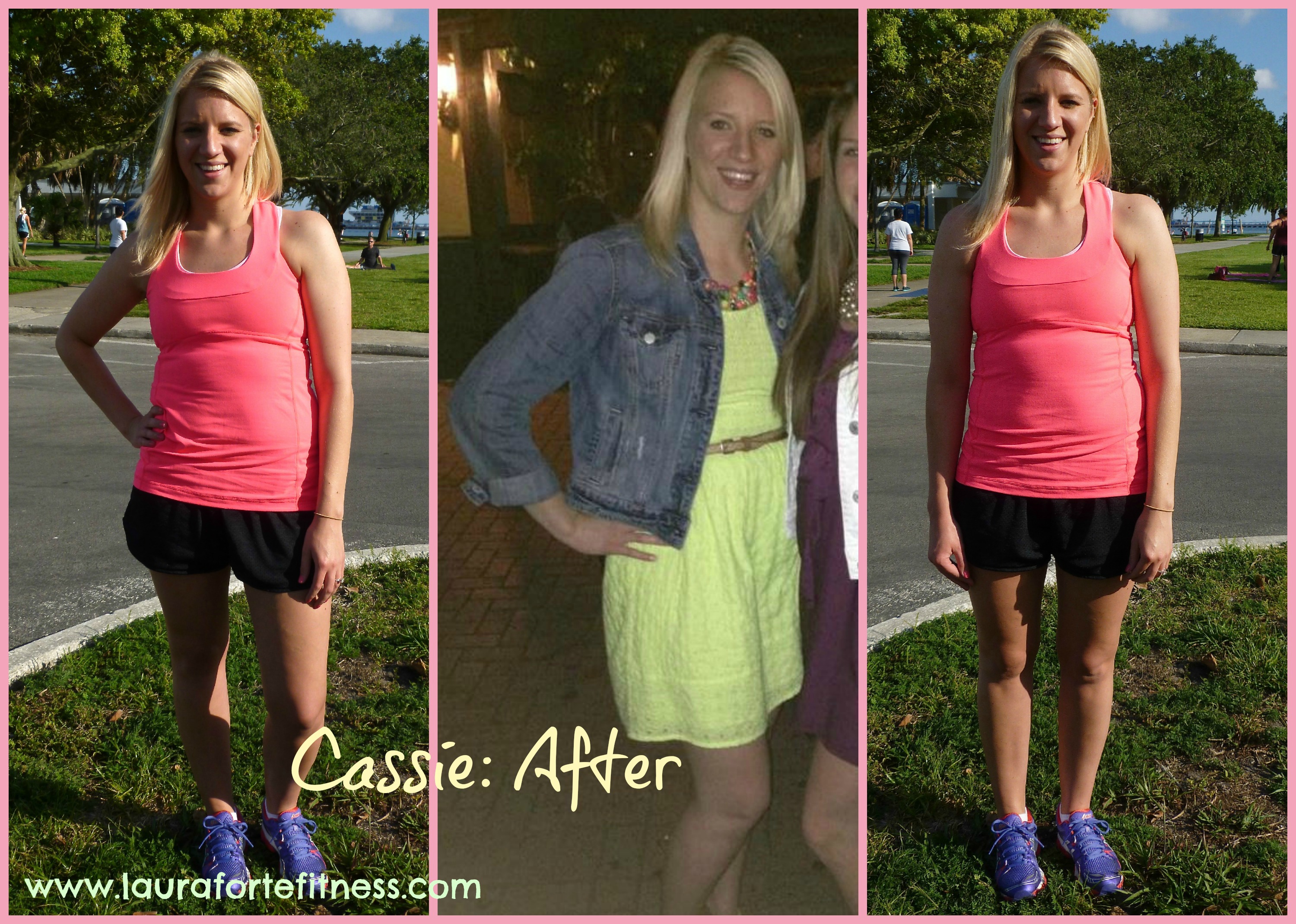 What are my results/experiences from boot camp/eating better?
My results from Bay View Boot Camp and eating better due to The Little Black Dress Project meal plan have been amazing. When I started boot camp and the LBD program I weighed 180 pounds. 6 weeks later at the end of The Little Black Dress Project I had lost 17 pounds and weighed in at 163. Since the LBD project, I have continued to count calories using my fitness pal and eat clean along with attending boot camp and have lost another 13 pounds. I now weigh 150 and have lost 30 pounds in total. I still have a little bit left to go as I would like to lose another 10 pounds before I getting married in September, but the progress and the way my life has changed because of Bay View Boot Camp has been amazing.
What is my motto/advice for others who are in a similar situation?
I think my motto for people in a similar situation to me is to never give up.. even on the really hard days. There will always be temptations in life, but remember what you really want and that will get you through even the hardest of times. Before boot camp I was an avid Coke drinker and this is something I have given up since the first of the year.  Some days this has been really hard and other days very easy, but when I really want a Coke I just remember to never give up.
 Congratulations Cassie on your hard work!!  Please take a minute and comment below and let Cassie know how her story has inspired you.  Make sure to "Like" us on Facebook because our next transformation program is coming up in just a few weeks!!!