I'm still on a high from the fitness conference I attended last weekend and wanted to share a little of what I learned with you.
One of my favorite presenters, Martin Rooney said:
"You are in the 2nd or 3rd quarter of your life.  What do you want to be remembered by?  What legacy do you want to leave behind?
He went on to say..
"Your life won't be measured by what you got from the world, but rather what you gave back to it."
This week has been especially memorable for me and it started with our 
Transformation Tuesday story
, Janie.  I've already witnessed her story completing change and inspire the lives of those around her.
P.S – If you haven't read it yet, do it NOW!  
She shared her journey of personal growth (or in her case shrinking!) and it has already made a lasting impact and changed the course of direction of others.
People say there are two great days in a person's life: the day you were born and the day you discover why.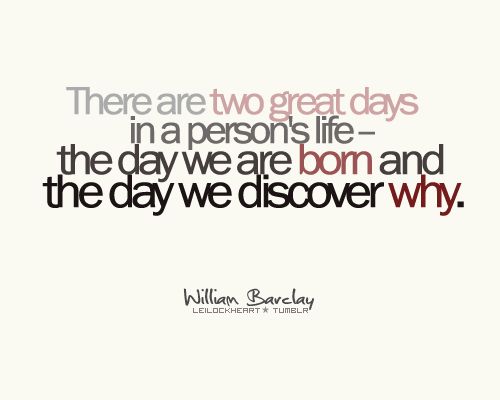 What's your why?
*Challenge*
I challenge you to carve out about 10 minutes today and think about how you will leave your legacy behind.  Start with  answering these questions on a sheet of paper.
1. Make a list of all of your best personal qualities.  Don't stop writing until you've filled up the whole piece of paper.
2. Which of those qualities can you put into action to give value back to those around you?
3. Choose ONE thing that you will do so that you'll leave a lasting impact.  Put a deadline next to it.
4. Share it!  Put it out there.  Share on Facebook and 
tag Bay View Boot Camp
 and share it with at least one friend in person.  
It makes it real!!
Cheers to leaving a legacy,
Laura