Welcome to Bay View Boot Camp!!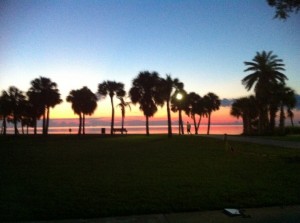 We are located in beautiful North Shore Park, one of St. Petersburg's finest waterfront parks!!  You can't ask for a much more beautiful setting to exercise and burn calories.  If you are looking for a personal fitness trainer and weight loss specialist, look no further!
Exercise in a team atmosphere where every single workout is different and challenging.  We do circuit training, plyometric exercises, tabatas, use resistance bands, dumbbells, agility ladders, jump ropes, pull-up bars, body weight exercises, and battling ropes.
If you are looking for motivation to achieve your fitness goals and a St. Pete boot camp that will keep you on track, come check us out and see everything we have to offer!
Consider our program for just $5!!  
It's the first step.
______________
Here is what is included in boot camp membership!!!!
Comprehensive St. Petersburg Fitness Boot Camp Success Manual (filled with travel & home workouts, tons of healthy recipes, goal setting sheet, and GREAT motivational tips!)
Customized Bay View Boot Camp Nutrition Program, including meal plans and printable grocery lists
Before and After Fitness Analysis with body fat composition, measurements and photo results
Access to our Members Only Bay View Boot Camp Page, filled with healthy recipes, fitness articles, and nutrition tips (coming soon)
Participation in boot camp socials, member grocery tours, and team race events (local 5k's, mud runs, etc.)
24 Hour access to a personal trainer (me!) for any fitness or nutrition questions
Customized workouts for when you travel and need a hotel workout
AND OF COURSE.. muscle toning, fat blasting, and 1000 calorie workouts!!!
BAY VIEW BOOT CAMP SCHEDULE
Monday, Tuesday, Wednesday, Friday: 6:00 AM
Monday, Wednesday, Thursday, Friday: 8:00 AM
Monday, Tuesday, Wednesday, Thursday: 6:00 PM
Saturday Morning: 9:00 AM
Classes are UNLIMITED!!  Each class lasts 50 minutes to 1 hour.
(This includes warm-up, workout, and cool-down)
______________
 Here's what you need to bring..
Exercise mat
Towel
Water Bottle
A set of dumbbells (5 – 15 pounds)
______________
We meet at 1210 North Shore Drive NE (close proximity to the Vinoy Hotel and St. Pete Pier).  We meet at the parking lot with the tennis courts.  Look for a sign that says "Bay View Boot Camp!"
You are welcome to bring one friend with you to your 5-Day Trial.
We look forward to meeting you!!!
Here's what a few of our members have to say about Bay View Boot Camp
My son (20) and I (44) worked out with Laura for our entire vacation (almost 3 weeks) and wish that we could pack her in our suitcase and take her home to the UK! Laura has a magical touch that we have never come across before. Her bootcamp is so intelligently worked out that although you feel you've worked out at the time, you have no idea how rigorous and deep the training really is – she makes it all feel so easy.
We have already seen the benefits of working out with Laura in this short space of time – we are leaner and fitter. In truth, we have never worked out with anyone as good as Laura. Not only is she an expert (she will always ensure you adopt the right position for every exercise), she is charming, funny and very motivating. I have done bootcamp training with the Royal Marines in the UK and Laura not only meets their physical standards but has the added charm that they sometimes lack! Laura is one of a kind and comes with our highest possible recommendation for men and women of all ages.
Marie-Helene Ferguson, Attorney
Tom Ferguson, Student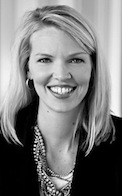 As someone who hates working out, I must tell you how much I LOOOVE Bay View Boot Camp. I've heard people say that they look forward to working out, but that has never been something I believed anyone could really look forward to…until now. I actually look forward to coming to Laura's class, and I do get a bit bummed the nights I miss. I am stoked with the results of my first 6 weeks.
As I told Laura when I signed up, my goal was to tone up my post-pregnancy "jiggle" and build muscle without bulking up. 6 weeks in and my husband has noticed that the back-pockets of my jeans no longer sag, but actually sit up on my newly-formed rump where they belong. I have a waist that no longer jiggles, and I have muscles in my arms. I LOVE IT! Thank you, Laura. Your energy and enthusiasm make the intensity of the training bearable, and dare I drop the "F" word…FUN!
Angela Carter
I have always been really self-conscious about my body image. I have spent countless hours plotting diets and exercise routines that I swear up and down I'll start the following week. It wasn't until I found Bay View Boot Camp's flyer at a nearby yogurt shop (go figure) that I decided to try a different approach to jump start my health kick. The first workout nearly killed me and when I woke up achy the following day I decided to cancel my plans to attend class that night. Laura talked me into coming despite my sore muscles and give-up attitude. It has been nearly 3 months now and I attend 4-5 classes a week.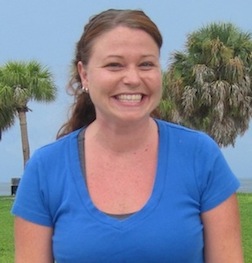 Laura's amazing go-to attitude has done wonders for my self-esteem and my overall well-being. I feel better than I have in years and have gained the confidence I was so desperately lacking before I joined Bay View Boot Camp. A gym membership is nice, but someone who is constantly there encouraging you to keep going and congratulating you for your accomplishments is exactly what I needed to stay motivated. (Never underestimate the power of a high five!) I have formed bonds with fellow boot campers and actually feel guilty when I miss a class. Having that type of accountability goes a long way and speaks volumes about the commitment and dedication that Laura and her campers have for their health and their success.
As someone who has struggled for years to find something to stick with, I can attest that Bay View Boot Camp was exactly what I needed to get up, get out and get moving again and urge anyone to try it and not enjoy it. I guarantee that you'll be pleasantly surprised at the results you achieve and the biceps, abs, and friends you make along the way.
Katie O'Neil
I have always been a very active person, and running has always been my outlet. But, I felt like "something" was missing. Discovery of that "something" took me high and low. Until the day a flyer caught my eye from across the lobby of the Planet Beach (which, I hardly ever pay attention to flyers). But I knew this flyer was different. I signed up and attended the Grand Opening and that was the day I discovered my "something!"
A place to run is what I was looking for but what I found in Bay View Boot Camp – was my home. It has truly been my place of community, connection, friendship, laughter, strength, peace, sweat and hard work, challenge, success, and my place of accountability.
Bay View Boot Camp has been "my place" for the last three months and I would love to share my place with you and have it become your place too!
I truly and wholeheartedly can say that joining Bay View Boot Camp has been the single best lifestyle change I have ever made!

Stephanie Scherrer
Want to Learn More About Us?
Join us on Facebook  
Connect with us on Twitter
Email Laura at laura@laurafortefitness.com