Happy 2018!!
We are so thrilled to ring in this year and reach even more people with our program!  We've also had a chance to reflect on how we couldn't be more proud of our boot camp family with all they've achieved in the past year.
A great tradition of ours in the past has been to spotlight a member's accomplishments for something we call "Transformation Tuesday", and we are LONG overdue for a story.
I couldn't be more excited to bring back this great tradition with Marilyn's story.. which SHE wrote!!
I know her story will inspire you as it has inspired both myself, our trainer team, and our entire boot camp family. 
I bring you Marilyn.. in her OWN words!
I've never been one who loves exercise and had been fortunate that I could stay at a relatively healthy weight by doing some light exercise here and there. But as I got older, like everyone, my metabolism started to slow. I turned 40 four years ago and had about 10 pounds to lose. That same year, I met my now husband. At the time, I was living in the Washington, D.C. area and he was in Boston. After dating long distance, we got engaged, and I made the move to Boston. It was great being with my sweetie, but the New England weather did not agree with me.
I've never been a "gym person" and I always preferred to exercise outdoors, but that just was not possible during winter in Boston. After a harsh winter in which I pretty much hibernated (did I mention we got over 100 inches of snow that winter, breaking the record for the most snow in one winter AND had the coldest February on record!?!?!?!), that 10 pounds I wanted to lose had morphed into 20. The next thing I know, I was walking down the aisle and honeymooning, definitely not in the best shape of my life, but feeling happy and loved.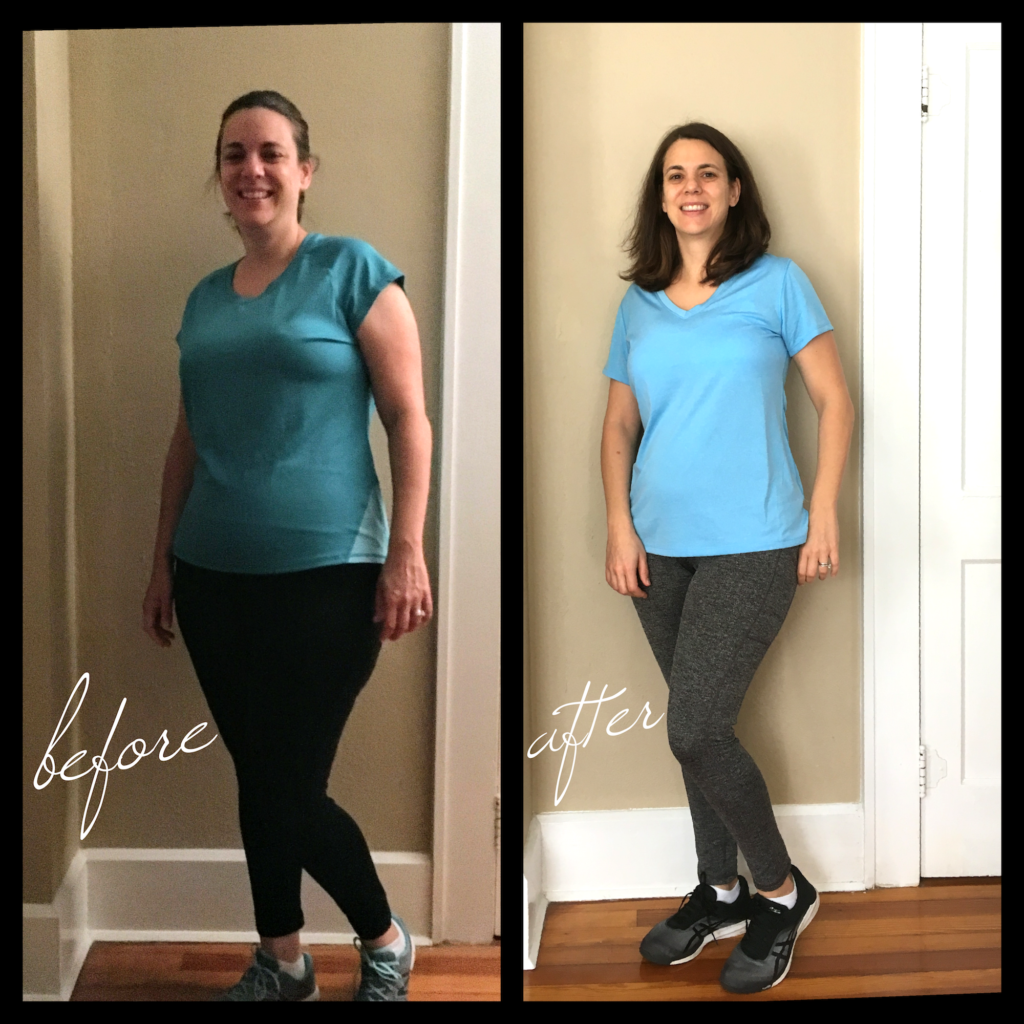 I decided after the honeymoon, I was going to get fit. As they say, life is full of surprises. Turns out my husband and I came back from our honeymoon with the greatest souvenir, but we had to wait 9 months for delivery. That's right–we had a honeymoon baby on the way!
We were beyond thrilled.   But that meant I was going to postpone losing weight for a while. Exactly three days after I turned 43, I gave birth a  beautiful, healthy baby boy. And that 20 pounds I needed to lose was now more like 30-40!
With sleepless nights and caring for a newborn and returning back to work full time and another harsh New England winter, I made no  progress on my fitness goals. At this point, my husband and I were ready for a change of scenery and wanted to be closer to family. So in the summer of 2017, we moved to sunny St. Pete. With my son sleeping through the night and being on a more regular schedule, I decided to finally work on getting fit.
I started eating better and walking in North Shore Park regularly, but progress was slow going. I still felt tired all the time. Every night, after we put our son to bed, my husband and I would try to watch TV or a movie but I was always falling asleep about halfway through whatever we were trying to watch. I had a hard time keeping up with my son who was now walking. I would think to myself, "How I am going to keep up with an elementary schooler when I am my 50s?"
While walking in the park, I noticed Bay View Boot Camp. It looked really hard, but then I started to take a closer look. What I saw was a group of diverse people–some seemed younger than me, some seemed older. All were definitely fitter than I was, but some did modifications of challenging exercises while others looked fit enough to teach the class. I also noticed that everyone seemed to encourage one another no matter where each individual was on his or her fitness journey. I began to think maybe I could actually do this. I decided to check Bay View out online to see if it would be a good fit for me.
Turns out, Laura was just launching a Little Black Dress ("LBD") Challenge. The LBD Challenge included 28 days of meal plans with recipes, shopping lists, a success manual, access to a support group online, at home/travel workouts for when it was impossible to make class, and unlimited access to boot camp classes with participants committing to attend 3-4 classes a week. I thought about it and decided now was the time to commit to getting fit. Twenty eight days seemed like a good amount of time to try something new and see if it worked for me. I also knew if I could complete it, I would have a sense of accomplishment that would drive me to keep going for the long haul.
Since joining boot camp, my energy level has really increased. I no longer fall asleep in front of the TV every night. Keeping up with my active toddler is so much easier. I am also stronger than I have been in a long time. Lifting things I used to think were so heavy–turns out they weren't heavy, I was just out of shape! And sure, when I see friends and family, it's great to get compliments on how good I look, but honestly–feeling better is an even greater reward and incentive to keep going!
That first boot camp class was an eye opener. I knew I was out of shape and had weight to lose, but I hadn't really pushed myself in a long time. In pushing myself, I felt how much work I needed to do but also it was doable. Laura and her trainers were always encouraging. They took time to show us newbies how to do the exercises correctly and how to modify things for our current fitness levels. And the other boot campers were very encouraging. Even though the first few weeks,  I couldn't always keep up, no one ever made me feel bad about that. Rather, the trainers and the participants were there to tell me I COULD do it.
I completed the LBD challenge and lost 8 pounds in 28 days.
Since then, I've stuck with nutritional principles Laura gave us during the challenge, at least most of the time. For example, during the holiday season, I knew I would indulge, but I kept that to only special occasions and ate clean and fresh foods most days. And let me just say, I love good food! The foods Laura suggests eating are tasty and satisfying real food, so it is easy to eat healthy meals that taste yummy and fuel your body. I actually lost a few pounds during the time between Thanksgiving and the New Year's instead of what usually happens–gaining a few pounds.
Currently, I attend boot camp 3 times a week and go for longer walks and even a little jogging on the days that I don't go to class. When my schedule gets really crazy and I can't make class, I find time to do the at-home workouts.
I still have some work to do, but I know that I will reach my goals. Every class, I find myself able to do more and more. Laura and her staff are great with helping you realize you can hold that plank for a few more seconds, lift the heavier weights, and keep going to finish the workout. I never was an athlete, but now I look forward to working out and pushing myself to try new things.
This year, I will turn 45 and my son will turn 2. I no longer worry about whether I'll be able to keep up with him.  I'm in better shape than when I turned 35!
You really can do it! If you are like I was and looking to get back in shape and lose some weight, it will be hard to get started at first. But commit for a few weeks. I promise, if you stick with it, Laura and entire boot camp family will be there to help you. You will have more energy and get results. And you will do it in a beautiful setting and meet a great group of people.
When I checked out Bay View online, I remember seeing the transformation stories. I never imagined I would become one. If you truly commit, try things that are outside of your comfort zone, and give your best at every workout, Laura and her team will help you achieve your goals. You really can become your own transformation story!
Marilyn thank you for sharing your story with us!  If you've been inspired by Marilyn either by her story or during class, please leave her a note below!