Class Schedule:
Monday, Tuesday, Wednesday, Friday: 6:00 AM
Monday, Wednesday, Friday: 8:00 AM
Monday, Wednesday, Thursday: 6:00 PM
Saturday Morning: 9:00 AM
Classes are UNLIMITED!!  Each class lasts 50 minutes.
Please come 10 minutes early to get set up for class.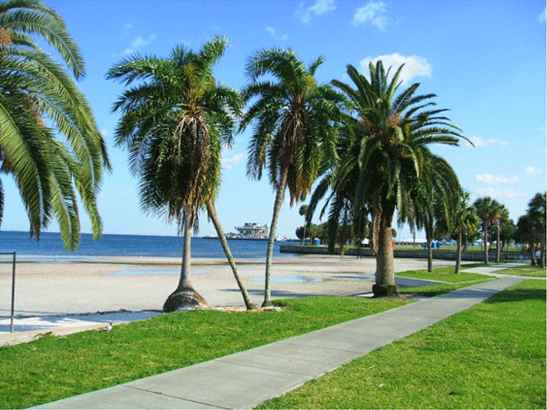 Location : 901 North Shore Drive NE & 12 Ave NE, St. Petersburg
*Meet in the parking lot next to the tennis courts and look for our sign*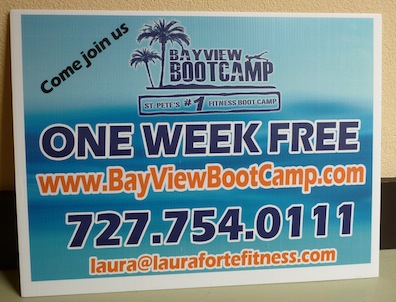 *Please call Laura if you have trouble finding us – 727-754-0111* 
We created a one-of-a-kind fitness boot camp program, designed to get you in shape once and for all!   We welcome ALL fitness levels and will CHALLENGE YOU to be the best you can be.
Bay View Boot Camp Features:
High Calorie & Fat Burning Workouts (up to 1000 calories per workout!)

High Intensity Interval Training (HIIT)

Functional Training

Flexibility Training

Nutritional Guidance
We are Located in North Shore Park in downtown, St. Petersburg. Our Saint Petersburg Boot Camp program is a challenging, intensive, and FUN training program that is GUARANTEED to make you tone-up, drop weight, and lose inches!
Our boot camp is NOT for everyone!
We believe in getting results and getting them QUICKLY. We want motivated people who are willing to work hard and get in the best shape of their lives!
Bay View Boot Camp Includes:
Comprehensive Fitness Boot Camp Success Manual (Filled with Travel & Home Workouts, Tons of Healthy Recipes & On-The-Go Nutrition Tips, Goal Setting & GREAT Motivational Tips!)
Customized St. Pete Boot Camp Nutrition Program including Meal Plans and Printable Grocery Lists
Before and After Fitness Analysis with body composition, measurement, and photo results
Access To Our Members Only Bay View Boot Camp Page – Filled With Healthy Recipes, Fitness Articles, and Nutrition Tips (coming soon)

Participation in boot camp socials, member grocery tours, and team race events (local 5ks, etc.)

AND OF COURSE… Muscle Toning, Fat Blasting, 1000 Calorie Workouts!!
Visit our Sign Up page for more information!!